Sotheby's and Christie's each offered Rubens portraits at their auctions last week. The Christie's picture,
Clara Serena Rubens
(above) had been recently deaccessioned by the Metropolitan Museum of Art in New York, and
sold by Sotheby's
in 2013 as the work of a follower. Back then it made $626,500 against an estimate of $20k-$30k. It's been promoted hard as a Rubens, including spells on loan to the Rubenshuis and the National Gallery of Scotland in Edinburgh. A dealer described the estimate of £3m-£5m as low, and
predicted
that she would 'break records'. It didn't sell.
I saw it at the Rubenshuis, exhibited alongside certain works by Rubens, and didn't think it stood up. It's a really endearing image and beautiful in parts, but the ambiguously sculptural treatment of the bust seems wrong for an intimate portrait of his daughter, and the application of paint seemed quite different from the other Rubens in the exhibition I saw. I'm not a Rubens specialist, and I know that some thought it was right even after seeing the Rubenshuis show. But a lot of Rubens specialists weren't quoted in the catalogue and haven't committed a view either way. Scholars are cautious of criticising new attributions, which are often uncertain rather than plainly wrong. But I am uneasy about museums showing controversial works with full attributions just before they're sold.
The
Rubens
at Sotheby's, which I
wrote about
in my preview post, was unquestioned and made £5,416,500 against an estimate of £3m-£4m. The market gave its verdict on the relative merits of the two portraits. The wonderful
portrait attributed to Düre
r
- my favourite in the Sotheby's sale - made £1,150,000, over a cautious £300k-£400k estimate. It's still good value for something so rare and so good. Last time I can recall a plausible Dürer offered at auction was the
Portrait of Michael Wohlgemut
from the Schäfer collection at Sotheby's in December 1992, where it was unsold against an estimate then of £600k-£800k.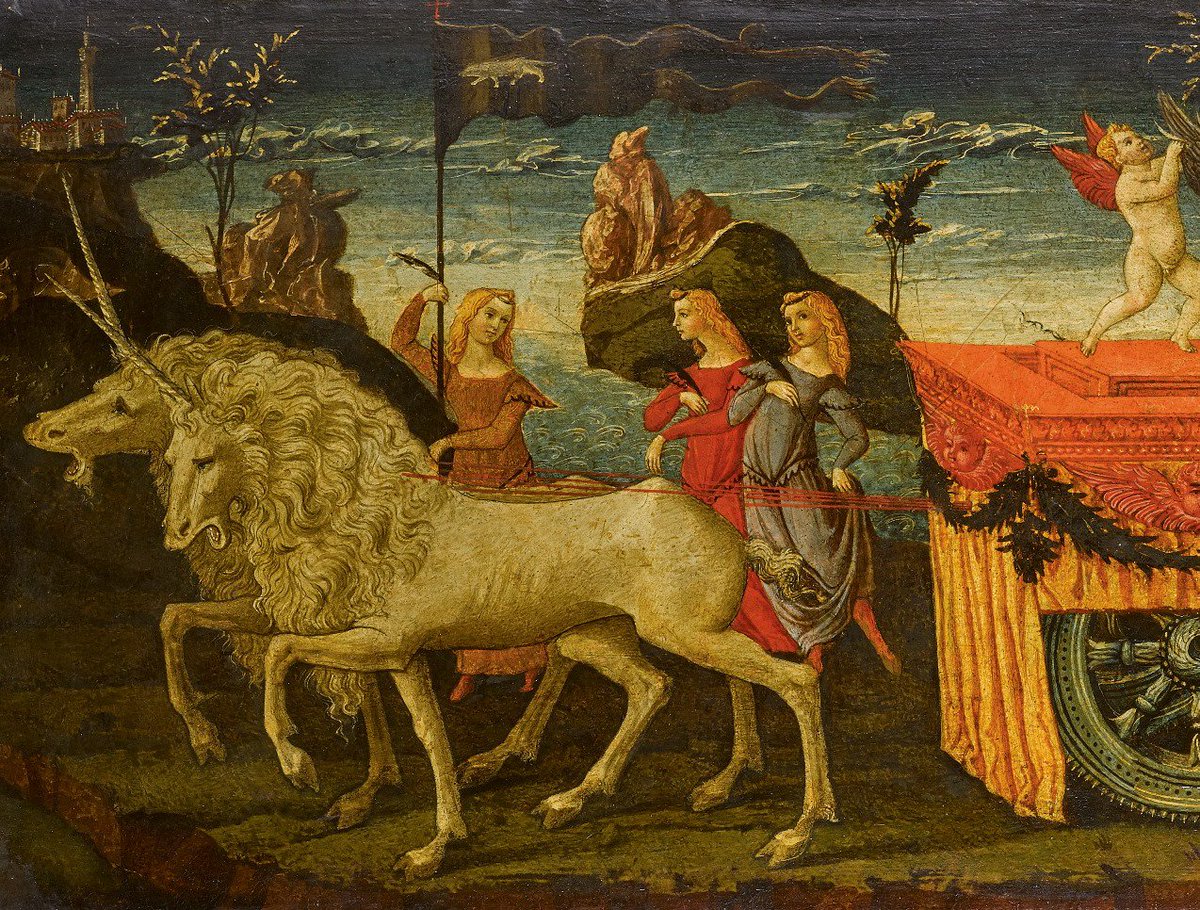 Sotheby's had a lot of pictures to my taste. I've always liked the mysterious
Jacobus Vrel
, and I was pleased to see one of his best pictures sell for £838k (estimated £300k-£400k). Cassone panels are often disappointing because they get so damaged, kicked and scrubbed over the centuries. The Liberale da Verona
Triumph of Chastity
was one of the most beautiful and well-preserved to appear on the market, and deservedly made £1,330,000 (estimate £400k-£600k, detail above). I was more surprised to see
four South Netherlandish panels
from the early fifteenth century sell strongly for £2.65m (est £1m-£1.5m). They're enormously rare, but I thought not of the finest artistic quality. I preferred a really fine
Adoration of the Magi
by a follower of Van der Goes, which made just £250k (est £200k-£300k).
At Christie's an attractive Gerard David
Holy Family
made £4,846,250 (est £1.5m-£2.5m) and a major portrait by
Ludovico Carracci
that emerged in 2005 made £5,071,250 (est £3.5m-£5m).
In drawings, Turner's spectacular
Lake of Lucerne
made £2,050,000 at Sotheby's. I thought it would do better. That's less than half the
Blue Rigi
, which is a steep discount for a less sexy title. Van Goyen drawings are common, but an especially
beautiful one sold for £68,750
against a £20k-£30k estimate. There's a strong market for the very best drawings. The very best drawing sold last week, in my view, was the incredible early Fuseli of
The Faerie Queen
that made £728,750 (est £150k-£250k), which is both a high price and a bargain.
There were a couple of high prices in the day sales. At Sotheby's an attractive and commercial
Netscher
made £274k against £60k-£80k estimate. At Christie's a thirteenth century Tuscan
Madonna and Child enthroned with
angels
(pictured) sold for £992,750 against a £30k-£50k estimate.