It's bronze-o-rama this month. Really great bronzes rarely come up for sale, but this month there are three in London. My favourite is by the greatest sculptor of small bronzes, Giambologna. The Dresden
Mars
(£3m-£5m, above) is a heart-stopping masterpiece. Exquisitely detailed and with beautiful patina, it's also a consummate summary of mannerism with its subtle and not-so-subtle distortions. The massive foreshortened hand is marvellously expressive with detailed veins and an exaggerated radius bone that looks almost like a ganglion cyst. The calf muscles are over-sized, and more distortions become evident when you study it. But the effect is artistic rather than awkward.
Sculptures are hard to display. They need protection from curious hands, but they can't really be appreciated in vitrines. Sculptures are often seen as the poor relations of paintings, and don't get the same curatorial attention. That's why auction viewings are so worthwhile. The auctioneers do a much better job of showing their wares, and you can really appreciate the quality of this masterpiece. It's a logical acquisition for the Getty, which has developed a choice collection of sculptures. I hope they get it, because they display their collection so well.
Christie's also leads with bronzes. There's a great group of
Hercules overcoming Achelous
by Tacca, an artist in Giambologna's studio. A gilt version of this is in the Wallace Collection, and comparing the two really emphasises the quality of the Christie's bronze. Estimate is 'on request', circa £5m. They also have a magnificent rediscovered masterpiece by Giradon, a large bronze of
Louis XIV on Horseback
(£7m-£10m).
The picture that grabbed my attention was this outstanding
Portrait of a Man against a green background
, plausibly attributed to Dürer. I don't know if it's by him or one of his close followers like Schongauer, but whoever it's by, it is a masterpiece. Condition is clearly compromised; the background looks horrible. It might have been overpainted and then cleaned. But the face itself is well-preserved and fabulous quality. This kind of picture is rare outside Germany and the estimate of £300k-£400k is modest, reflecting its small size and the diminished impact from damage to the background. The excellent catalogue entry gives more background on disputes over its attribution, which is welcome. Continuing with the northern Renaissance, Sotheby's also has a rare picture by one of my favourite artists, Hans Baldung.
The Holy Family with Five Angels
(£2.5m-£3.5m) is rather worn in the key parts, but other elements are still finely preserved. And they almost never appear for sale. Hugo van der Goes is another rare and prized master. The
Adoration of the Magi
at Sotheby's is only by a follower, but I like it a lot. And over 2m wide, it's unusually large and is good value at the estimate of £200k-£300k.
Speaking of attribution disputes, Rubens was enormously prolific and pictures by him and his studio often appear at auction and there's sometimes a fine line between the master and his school. The best this time is a fine
Portrait of a Venetian Nobleman
at Sotheby's (£3m-£4m), which looks even better in the flesh, with an ambiguous sense of swagger and vulnerability. Christie's has a newly-attributed
portrait
with a slightly higher estimate (£3m-£5m), which I don't love. Christie's also has a fine large studio version of a lion's den, derived from the Washington
Daniel in the Lion's Den,
without the lions (£25k-£35k).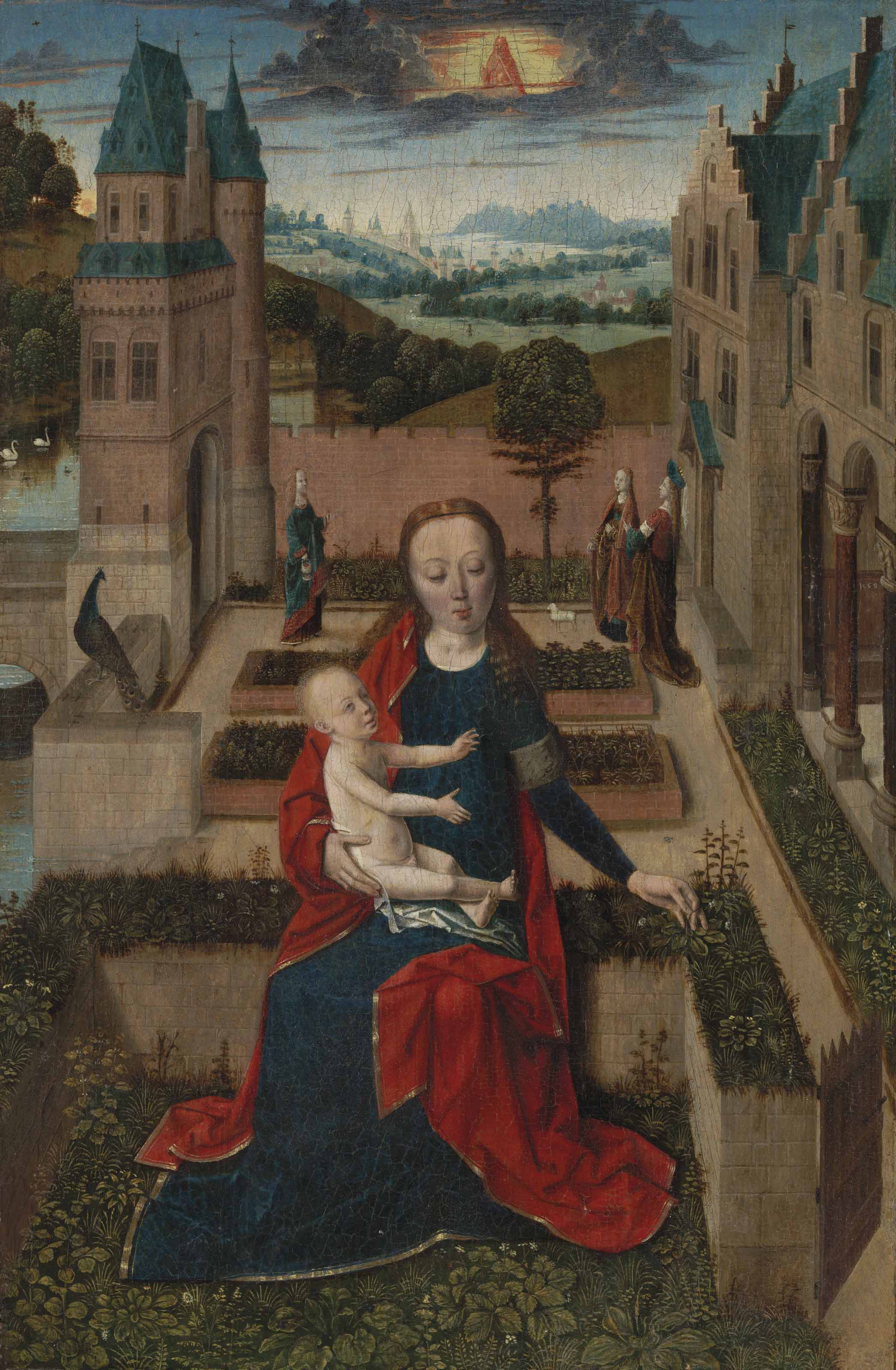 At Christie's there's a fine large Zanobi Strozzi
Last Judgment
which represents Fra Angelico's beautiful style (£2-£4m) and a superb early Spanish masterpiece by Miguel Ximénez, also of the
Last Judgment
(£600k-£800k). My favourite is a small
Virgin and Child in a Walled Garden
by the Master of the Triburtine Sibyl (£400k-£600k, above).
A tiny Jan Brueghel the elder,
A Wide Village Street in summer with carts, villagers and gentlefolk
(the title says it all) reminds me that he's a really great artist (£2.5m-£3.5m, Sotheby's). Not all his pictures rise to this level, and weaker ones appear at auction quite often. It's a beautiful and easily appreciated picture, but it's also a sophisticated image. Perspective is cleverly distorted; compare the trees on the left and the right. It's a trick used by Rubens, but on a tiny scale. When you see lots of pictures of this type you come to appreciate how hard it is to integrate those seemingly-random figures into a harmonious whole. It's a really great picture.
Sotheby's has a sleeper in reverse. This
Ecce Homo
is described as Venetian School, early sixteenth century, with an estimate of £30k-£50k. The catalogue note doesn't mention that it was previously
offered
in New York in 2009 with full attribution to Lorenzo Lotto, endorsed by Keith Christiansen of the Met, with estimate of $400k-$600k. It's still a fine, unusual picture. I wonder if it would have been better marketed without the initial Lotto attribution, encouraging the trade to bid it up as a sleeper.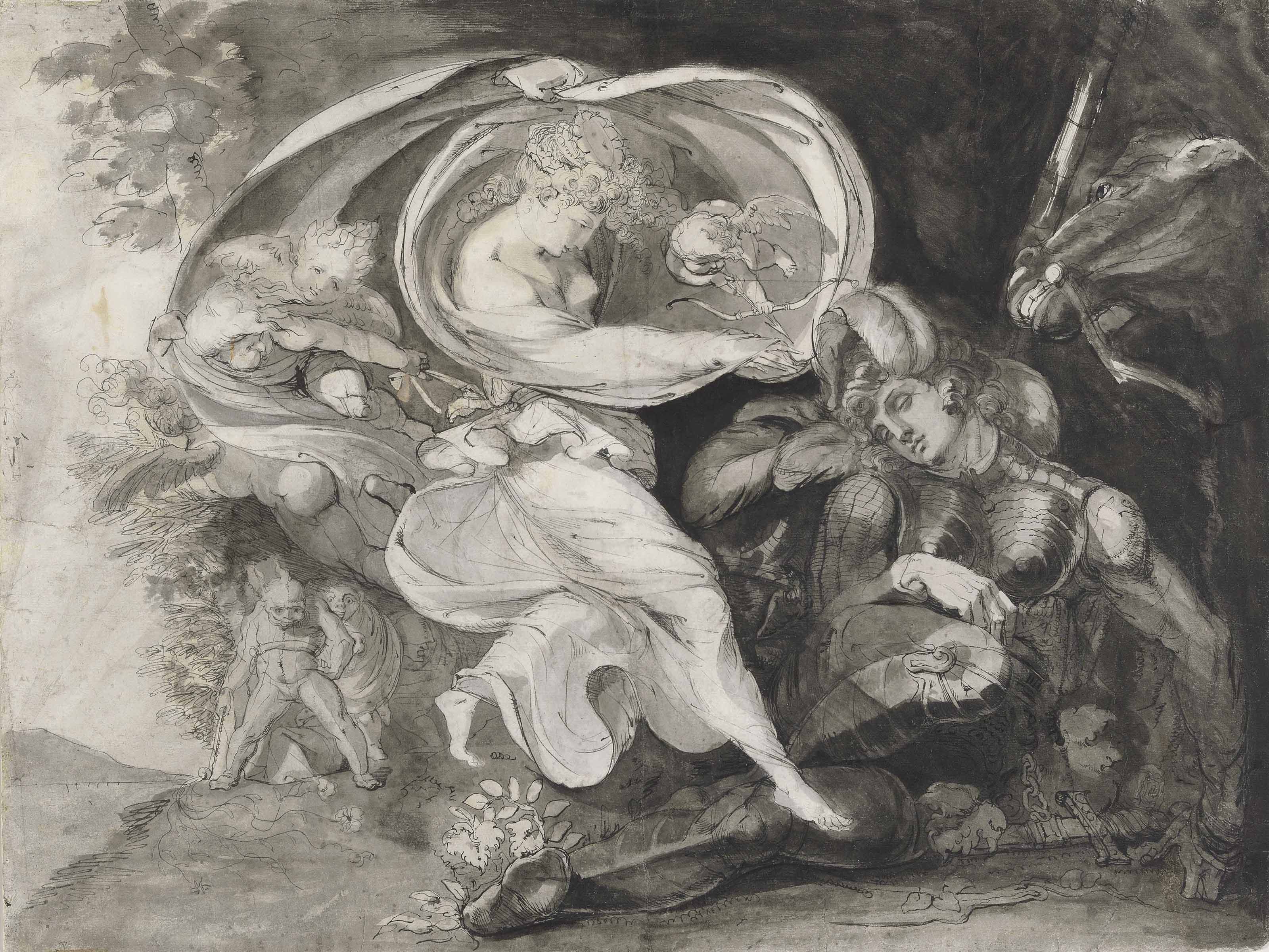 There's a dearth of great drawings at this week's sales, but each auction house has a few spectacular things. There's an overwhelming early Fuseli at Christie's,
The Faerie Queen appears to Prince Arthur
(£150k-£250k, above). The most fascinating is a twenty-foot
panorama
of London just after the Napoleonic Wars, by Pierre Prévost (£200k-£300k at Sotheby's).
These are the big-money highlights, though not so big compared to contemporary art. I'll write a separate post tomorrow about the day sales and antiquities sales, where there are some really good pictures with really modest estimates.