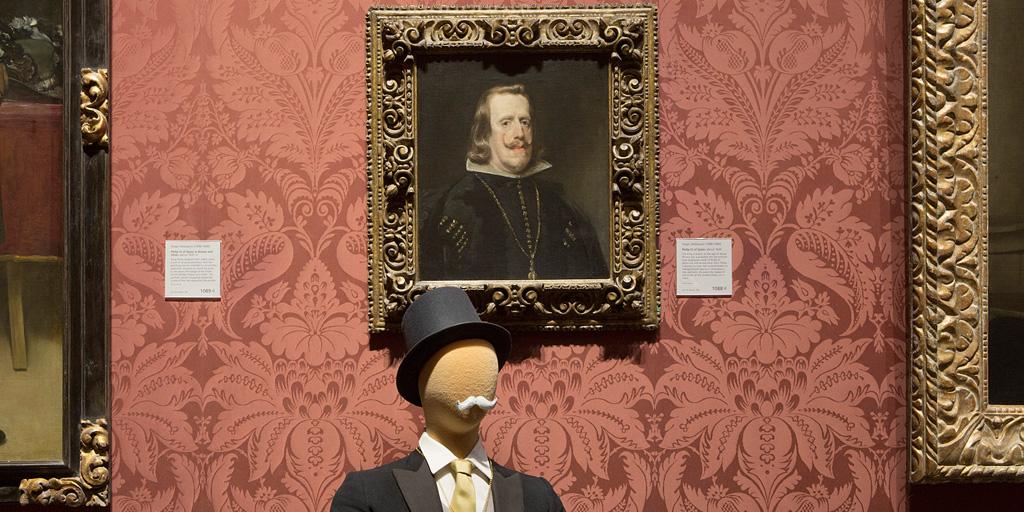 Picture: National Gallery
Sunday was 'pose day'. It's part of museum week, a Twitter initiative that encourages people to pose for selfies in front of works of art, striking a pose that imitates or reflects the art. Some people think it encourages new audiences, and others think it's harmless fun. But I think it's degrading to all concerned, reducing works of art to props and reducing museums to foils for people to brand themselves. I discussed it with
CBC
this week, but here are some more elaborated reflections.
There is something deadening about seeing crowds lining up to take their pictures in the same pose in front of the same work of art, rarely pausing to look at the backdrop. A picture that might embody the highest religious ideals or the profoundest philosophical thought, or simply the apogee of artistic technique, is cheapened when treated as an opportunity for a cheap visual joke. The National Gallery even took pictures of mannequins in front of pictures from its collection (above). It's a daft stunt that trivialises the art. And the visitors themselves are missing out. If they slow down and look they could start to understand why some works of art are appreciated as masterpieces.
Some works of art reward close study of technique. Others - the greatest - are transcendent and inspirational. It's thrilling to stand before a late Rembrandt or a great Poussin; they represent the highest level of individual human achievement. Unlike modern medicine and science, technology and industry, great works of art embody the creative spirit of a single person, however much they rely on learned technique or reflect their times. Going to art galleries is a chance to step outside our own humdrum concerns and be inspired, to seek to understand ideas that are sometimes alien and to engage with the mind of the creator. For some that inspiration is technical - how was this painted, and by whom? For others it might be more historical, or spiritual. Appreciation isn't automatic; rewards are proportionate to effort, and often requires guidance. But instead of guidance, museums offer cheap gimmicks like selfies and 'pose day'.
The impetus for all this nonsense doesn't come from patrons. It's being pushed by museums themselves, which now frown on lofty sentiments about art. They seek to make it as much as possible about us, and to bring it down to the must mundane level. They are absolving themselves of the responsibility to explain, offering instead cheap commoditised fun. The curators themselves have devoted their lives to studying art; they must surely think it's worthwhile. They understand what makes a picture great. But the highlights are now flaunted as nothing more than photo opportunities, tokens of high culture that flatter the selfie-taker.
At one level it ceases to matter whether a picture is even authentic if it's just to be used as background. But at another level I think it does matter to patrons; they do go to museums hoping to participate in a cultural experience. It matters that the backdrop has been identified as a masterpiece, even if they don't know why it has been designated great. The promoters of 'pose day' are cheating them. They are offering a pretend shortcut that requires no effort, but which equally offers no real reward. Promoting pose day shows contempt for visitors, substituting a simulacrum for the actual experience of engaging with art. The visitors leave with a cute photo, but no new knowledge or insight.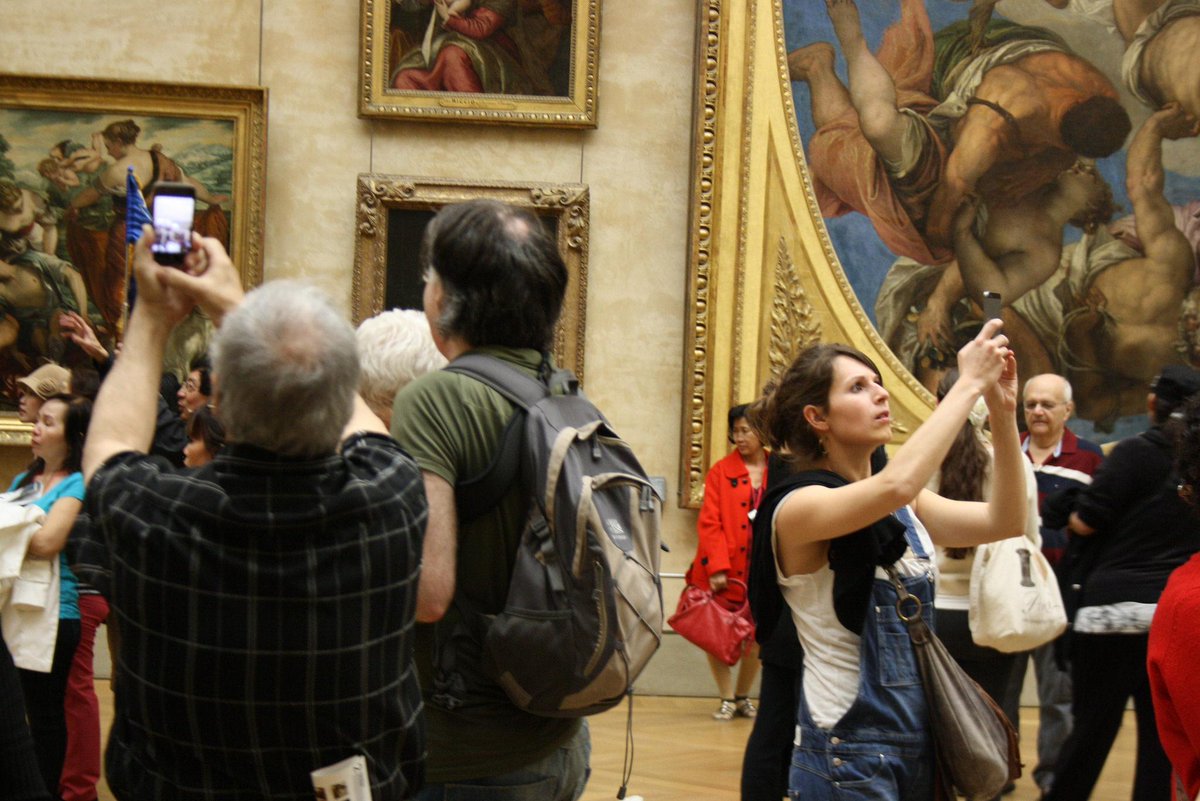 The icon of all that's worst about the modern museum is the image of photo-wielding crowds in front of the
Mona Lisa.
But now even this is turned around and presented as virtue. These pictures were tweeted by the Louvre itself, celebrating the idea that a picture can be like a celebrity. Rather than see this impoverished experience for what it is, we are told to enjoy it as if we are taking the role of the paparazzi. Playing at being a celebrity photographer is elevated as the highest ideal of the modern commodified museum visit.