Picture: Sotheby's
This
Descent into Limbo
is catalogued as 'Florentine School, c. 1560. It's a stonkingly good mannerist altarpiece that looks so much better in real life. The large figure of Christ is the worst part, rather flatly painted. But the subsidiary figures are brilliant, particularly the foreground Moses. It has been attributed to Vasari, but I think parts of this picture are better than Vasari. Some of the background figures seemed to me redolent of Pontormo. Its anonymity and the unattractive main figure keep the estimate down to a modest £500k-£700k. This is exactly the kind of picture that museums should go after - art historically important, rare and very high quality, but modestly estimated. It's a small altarpiece - not so large as to dominate a gallery, but big enough to provide an anchor in a section often characterised by small devotional pictures and portraits. It's so much better than the predictable English portraits that Birmingham Art Gallery has bought recently, for example. Do follow the catalogue link and zoom in; the catalogue entry is good, and the image quality on Sotheby's website is excellent.
The Sotheby's evening sale is tonight, and I went to the viewing at the weekend. It's a wonderful opportunity to see pictures that are usually inaccessible, and to assess pictures that are often not well known to scholarship. People rail against the corrupting influence of money on the art world, and they might have a point in the higher reaches of the contemporary market. But I quite like seeing pictures with price tags attached, because it invites assessment of relative quality. Quality and price is only weakly correlated, and I enjoy thinking about 'value for money' as an academic exercise. I don't much care for some of the highest-estimate pictures at Sotheby's, including Stubbs, Brueghel the Younger's
Calvary
and Cavarozzi, and a wreck of a portrait optimistically attributed to Velazquez. From the Warwick Portraits, I liked the cheaply estimated (£80k-£120k)
Corneille de Lyon
best. The
Hemessen
at ten times that estimate seemed rather damaged to me, though I didn't study it closely.
Sotheby's is selling a number of pictures and works of art from the Duke of Nothumberland's collection. In this sale there's a gorgeous tiny Jan Brueghel the Elder of
The Garden of Eden
(£2m-3m); I'm a sucker for his animal scenes. The same source brings a mediocre
Van Dyck
that won't be missed (£400k-£600k) and an astonishing and usual gold ground picture, the left wing of a diptych by
Giovanni da Rimini
. The estimate of £2m-3m reflects its beauty, importance and rarity; I don't recall anything closely comparable at auction in the past decade, so the price must be hard to call. But it would be a great addition to many museum collections, and it would even fit nicely in the National Gallery.
The other major source is the Barbara Piasecka Johnson Collection, which has been coming up for action for many years now. Johnson was a Polish chambermaid with an art history degree who married her employer, heir to the Johnson pharmaceutical fortune. She had a strongly defined taste and bought some outstanding works, although not all were first rate. A drawing by
Botticelli
is terrifically rare, but not pretty. Two anonymous
drapery studies
from Verrocchio's workshop, on the other hand, are just fabulous; they were long attributed to Leonardo. Intriguingly Keith Christiansen attributed the two studies to different hands, which I think might be right. They're rare and important, but also visually stunning.
The Day Sale includes this wonderful funny
A Fool with Two Women
by Cornelis van Haarlem.(£60k-£80k) and a cheaply estimated
Teniers
(£60k-£80k). It's not the most exciting image, and it's not the best Teniers, but it's a well-painted image by a excellent artist, and is superb value at its estimated range. A fine Garofalo
Circumcision
is estimated at just £60k-£80k; what's with that? Insanely cheap! There are lots of good but unfashionable or unoriginal pictures in the day sale with very reasonable estimates - academic portraits, seventeenth century still lifes and landscapes. Good pictures at the lower end of the market have never been so cheap, relative to average income.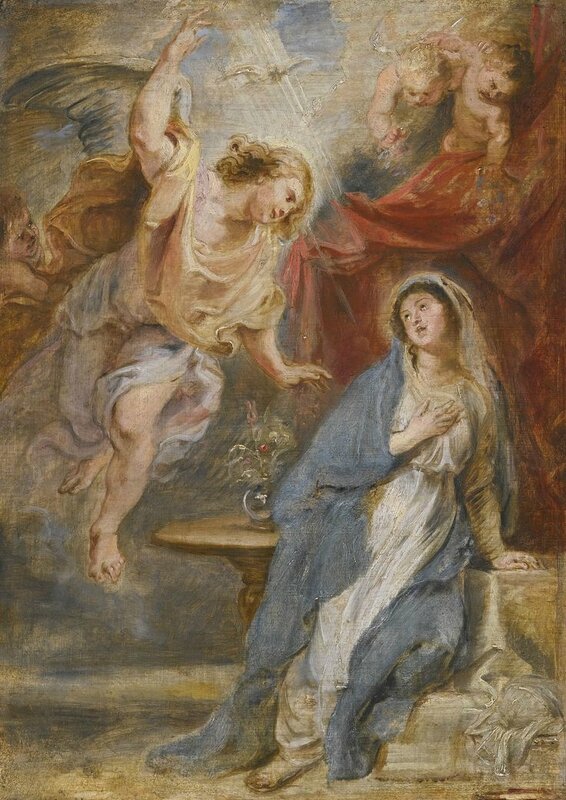 Picture: Alain Truong
But I'll sign off with my favourite picture in the evening sale, this Rubens oil sketch of The Annunciation (£2m-£3m). Just fabulous!
I'll write about the Christie's sales tomorrow, and also about the Old Master Drawings and other works of art that are being sold this week. The Sotheby's auction is this evening, and I do like to write before the sale, when the market has made its all-too-fallible judgments.