Picture: Christie's
Old master drawing sales never get as much attention as painting sales - so much so that the most valuable drawings at Sotheby's have been put into the paintings sale. It's a shame, because drawing viewings can be especially revealing, giving a chance to see things otherwise unknown an unpublished. And the absolute highlight of this season's old master auctions is the sale of a major collection of old master drawings,
the I.Q. van Regteren Altena collection of Dutch old master drawings at Christie's. Altena was buying from the 1920s, and much of his collection has been given to the Rijksmuseum - including a major Raphael. This sale has the cream of his Dutch drawings, and there are three more sales to look forward to. There's an excellent essay about Altena by Peter Schatborn in the Christie's catalogue. It's nice that the old master drawing sales avoid the sycophantic guff about collectors that you get in some of the paintings sales.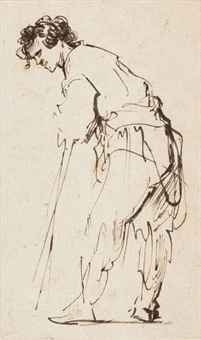 Picture: Christie's
There are relatively few of the biggest names - only one Rembrandt, for example (though a very fine Rembrandt, above; £250k - £350k), and a few Rubens, with two in this sale including a fine study for Samson and Delilah (£1m - £1.5m).
The collection's strength is in its range of first rate works by second tier artists.
It's hard to pick favourites. A fo
liage study by Verwer is one of only two drawings known by this enigmatic artist (£30k - £50k, pictured below). Goltzius's drawing of his hand has been widely and justly praised, but I particularly loved his red chalk drawing of The Heads of the Sons of Laocoon (£70k - £100k, pictured above). On the topic of Rome's influence on Northern artists, there's also a splendid Heemskerck Studies of Roman Sculpture (£20k - £30k),
Standaart's
The Triumph of Titus
(£10k - £15k)
and Jan van Stinemolen's
View of the Roman Amphitheatre at Pozzuoli
(£60k - £80k)
. Altena clearly had a penchant for the theme.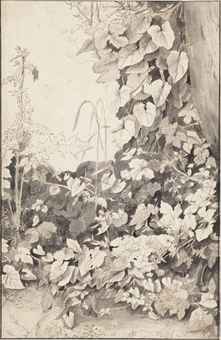 Picture: Christie's
Altena wrote the definitive catalogue of drawings by the de Gheyns, and there are eight in this sale, led by A Large Beech Tree, Partly in Leaf (£300k - £400k). He is woefully under-represented at the British Museum; I do hope they bag a couple. It's a wonderful collection. It offers a coherent overview of Dutch golden age drawing, but more important for a private collection it also offers a personal view of Dutch golden age drawing, with relatively few Rembrandt school figure drawings but a wealth of great landscape drawings. Specialised collections of Dutch paintings can be rather arid (Harold Samuel's, the Otterloos' and the Carters' collections all seem formulaic to me, despite the high quality of many of their pictures). It's interesting that both this collection and the Dutch drawings collected by George and Maida Abrams offer a more interesting personal perspective. Just wonderful; I can't wait for the viewings of the next sections.
The main drawing sale also has some fine things at modest estimates, many by celebrated draughtsmen. Sheets by Stefano della Bella (£4k - £6k), Filippino Lippi (or his circle, £15k - £20k)) and Fragonard (£4k - £6k) stood out, the last an interpretive copy of a painting by Guido Cagnacci. English drawings and watercolours include a particularly strong selection of Turners, but a more modest sheet by Sir Thomas Lawrence (£6k - £10k) would be my choice.
Picture: Sotheby's
Sotheby's sale today has nothing to equal the Altena collection, but they do have a number of Watteaus, best of which is the superb Head of a Faun (£250k - £350k, pictured above) from the Dormeuil collection, another old-time collection formed largely in the early twentieth century. There's also a well preserved head study by Lorenzo Balidssera Tiepolo, least-known of this talented family (£8k - £12k) and lots of Ingres - from which, my favourite is the large Study of the Virgin Mary in 'The Vow of Louis XIV' (£80k - £120k). An especially good Van Goyen landscape would have been at home in the Altena collection (£10k - £15k).