Picture: Sotherby's
The Old Master Drawings sales at Sotheby's and
Christie's
have some fabulous treasures. Each sale has top lots by Goya, Watteau and Fragonard, and some outstanding pastels (
Liotard
at Sotheby's,
Roslin
at Christie's - on which, see Neil Jeffares'
excellent commentary
). There are also some lesser works that offer exceptionally good value.
I was struck by the excellent anonymous
drapery study
, above, at Sotheby's. It has so skilfully captured the solid form under the drapery, particularly in that right leg. Sotheby's thinks the figure is stepping to the right, but I agree with Wethey that he's climbing a stair (maybe ascending an altar). It's estimated at just £18k-£22k. The great scholar Philip Pouncey accepted the traditional attribution to Titian, whereas Wethey listed it as seventeenth century in his classic study of Titian's drawings, although the Sotheby's catalogue note doesn't mention that Wethey hadn't seen the original. I don't think either is correct. It can't be Baroque. I can see the attraction of attributing to Titian, partly by eliminating other artists of sufficient stature to have produced this masterful study (certainly not Tintoretto, for example). Sotheby's suggests the Bassano school, which is reasonable but I don't think it's by Jacopo and I know of no other artist in his entourage capable of anything this good. Whoever it's by - and I doubt attribution will ever satisfactorily be resolved - it's a fine work of art for a very reasonable estimate.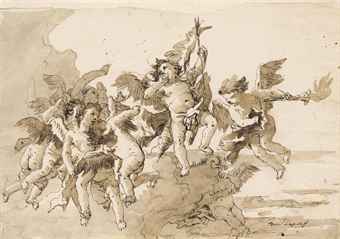 Picture: Christie's
There are no attribution issues with the next bargain - it's certainly by one of the greatest draughtsman of them all, Giovanni Domenico Tiepolo and it comes from one of a number of well-known albums of his drawings. It's estimated at £10k-£15k. He was quite prolific and his drawings come up for sale quite often, which keeps prices down. This is a fine and very pleasing example of his art, a life-enhancing thing to misappropriate a term of Berenson's that he'd never use for anything so decadent.
The drapery study is from the collection of Denys Sutton, former editor of Apollo, who owned a number of other good mid-range lots at the Sotheby's sale including a Gaspard Dughet
Landscape
and this Jacques-Louis David view of
Rome
. If you buy the David, please leave it to the British Museum in your will - he is woefully under-represented there, especially in contrast with earlier French artists like Watteau.
One other thing I wanted to share was this wonderful bronze
Head of Bacchus
from Riccio's studio, less than three inches high. It's a tiny wonderful thing that I'd love to have on the bookshelf above the desk where I'm writing this, to look approvingly at the wine I'm drinking. It's with Christie's estimated at £20k-£30k.
Picture: Christie's