Picture: Amazon
Maryan W. Ainsworth and Joshua P. Materman et al
German Paintings in the Metropolitan Museum of Art, 1650-1600
Metropolitan Museum of Art/Yale University Press 2013
This is a superb museum catalogue. Brief introduction on the collection, substantive entries on the pictures, good technical information and bibliography. Above all, it's judicious in its assessment of condition and generally balanced on questions of attribution. The greatest problem with museum catalogues is that they are often too uncritical. Some of the catalogues of London's National Gallery are utterly unreliable on questions of condition, believing every wreck to be 'well preserved'. Other catalogues are too optimistic on attribution. I thought the discussion of Holbein and Cranach in this catalogue especially good, rightly downgrading a number of good (but not quite good enough) pictures from Holbein to his studio. The analysis of the Met's Cranachs is also well-reasoned, although it's not a field I'm sufficiently familiar with to comment with any authority. However, I found the discussion of Durer's* Virgin and Child with St Anne (below) more problematic.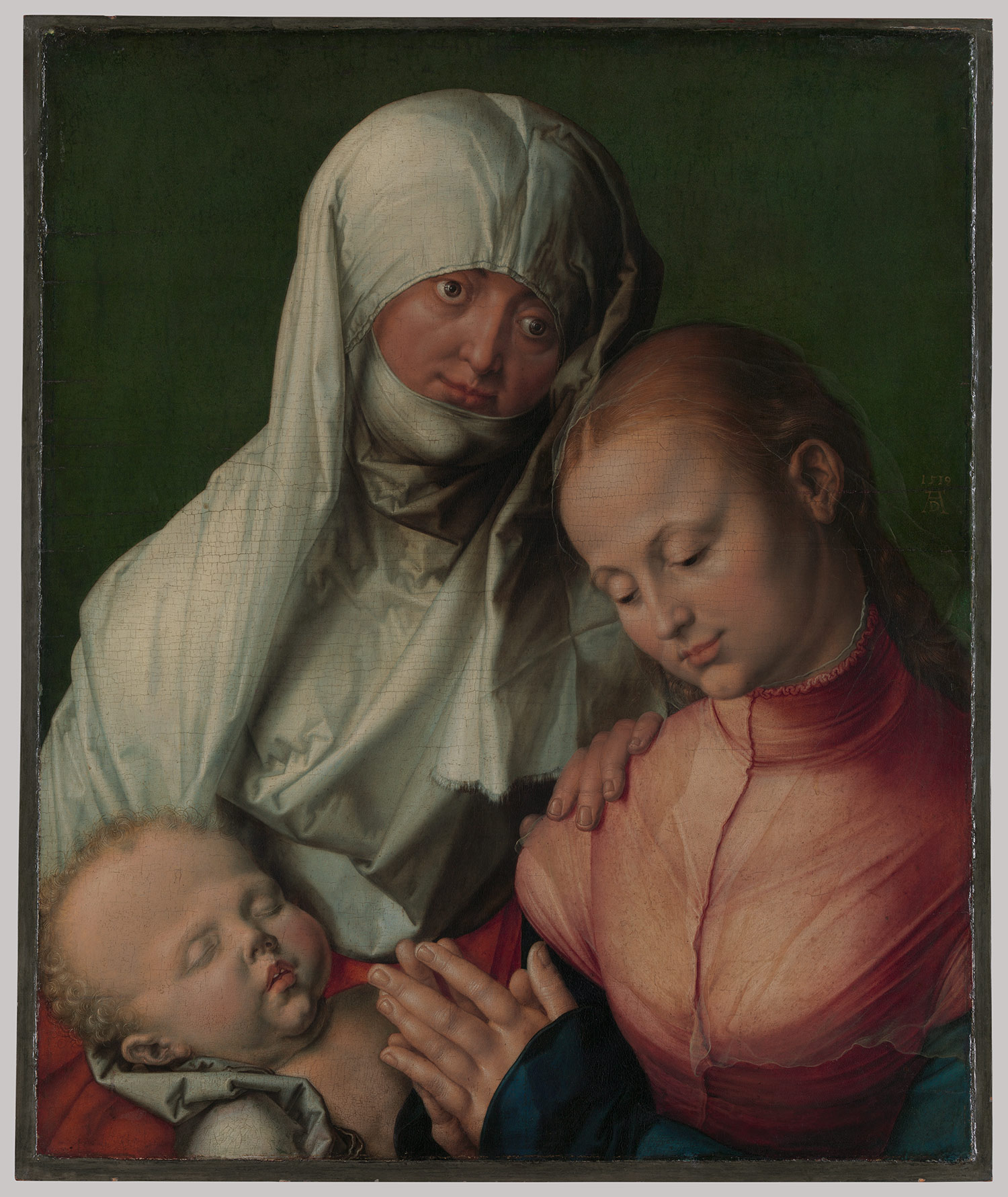 Picture: Metropolitan Museum of Art
The catalogue explains that this picture is in much better condition than is generally realised. It also points out that it's on panel, not transferred to canvas as many others have stated (surprising how often errors like this creep in and become firmly established through repetition). The catalogue firmly asserts Durer's authorship, but notes that Claus Grimm questioned it. Grimm is a scholar I admire greatly, but he is renowned for his connoisseurial parsimony. His splendid book on Frans Hals significantly reduces the corpus from Seymour Slive's earlier catalogue, and disputes the celebrated Merrymakers at Shrovetide in the Met - a challenge too quickly dismissed in Walter Liedtke's catalogue of the Met's Dutch pictures. This catalogue again dismisses Grimm without discussing the basis of his challenge, but what particularly piqued my interest was that an endnote points out that Christian Wolf's magnificent recent book on Durer also questions the attribution. It seems wrong to me that this wasn't brought out in the main text. The brusque dismissal of dissenting scholars makes me more sceptical, and I am not satisfied that this catalogue sufficiently establishes the case for Durer's authorship. Whoever painted it, it's one of the most important German paintings in America and merits a longer and fuller discussion than it receives in this catalogue.
Another quibble is that deaccessioned works are mentioned only in a checklist. The Met is notorious for flogging things it's bored by so they can buy shiny new things. Their choices are sometimes spectacularly inept, like this unrecognised
Rubens
recently sold. It would be helpful if the catalogue included brief entries on deaccessioned works, to give a fuller sense of the collection's history, and to enable independent assessment of their trading strategy.
Quibbles aside, I greatly enjoyed this valuable work on an outstanding and comprehensive collection of German art.
* I can't work out how to do umlauts, or accents, in Blogger and Duerer just looks wrong. Grateful if anyone can help?