Picture: Sotheby's
This weekend was viewing for the winter old master sales at Sotheby's and Christie's in London. One of the great pleasures of auction viewing is seeing 'minor' pictures by unfamiliar artists. Willem van Herp I isn't a household name, but I was really struck by his splendid
Tavern with merrymakers and cardplayers
in the Sotheby's day sale, a large (32 by 40 inches) and well preserved painting on copper. Seen up close, the handling is broader and cruder than Jan Steen or David Teniers. But a good Steen or Teniers on this scale would be estimated a hundred times higher. I'm rather mystified by the decision to put this in the day sale (the pricier pictures are sold in the evening sales), hang it in a dingy corner of a downstairs gallery and estimate it at £60k to £80k, despite having sold for £165k in 1988. It's an especially lively and interesting tavern scene, with a great range of action and expression. It even includes a dog
and
a cat, so there really is something for everyone. There's another
version
available at Galleria Luigi Caretto in Turin.
Picture: Sotheby's
This good workshop version of Massys'
The Misers
(est. £60k - £80k) is in the same sale. It's just one of many versions of this famous composition, but nice quality and surely a bargain for a banker with a self-deprecating sense of humour (one lives in hope). I was also struck by a number of cheaply estimated and unattributed works that stand as summaries of their periods. This
St John the Baptist
is not particularly well painted, though it is well drawn (from a cartoon, perhaps?) and a fine example of mid sixteenth century Roman art with the foreshortened projecting leg and contrapposto stance, estimated at just £10k - £15k. Two good pictures by followers of Guido Reni's are impressive and cheaply estimated (lots
198
and
199
). And a Daniele Crespi of
The Head of St John the Baptist
, vivid blood pooling on its platter, is not to everyone's taste, but that's why it's estimated at only £30k - £40k.
This
Deposition
is catalogued as the workshop of Cornelis Engebrechtsz. (misspelled 'Engelbrechtsz.' in the title - a rare cataloguing slip!). It's an endearing image that shows some one trying but not quite succeeding. Almost every figure has the stock '
open mouth
' trope of Renaissance art. The cumulative effect is a bit ridiculous, the individual figures showing a limited emotional range and not relating well. The estimate of £30k - £50k reflects its charm, and well painted details set against its failure as a coherent image.
Picture: Sotheby's
Softer and prettier pictures from the eighteenth century are unfashionable. This portrait by
Nattier
, in the evening sale, is a steal at £150k - £250k. And pictures by less well known artists are cheaper still. There are three by Franz Christoph Janneck in the day sale,
An agent collecting taxes from a hunter and a farmer's wife
(above) is an endearing if unfashionable Austrian genre scene estimated at £8k - £12k, a tiny fraction of any equivalent seventeenth century Dutch work. It's a bit contrived, and less lovely than the best Dutch genre scenes, but still a rather good picture with a crazy low estimate.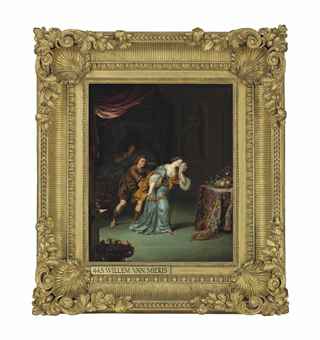 Picture: Christie's
Sticking with the theme of day sale bargains, at Christie's there's a landscape by
Cornelis Decker
estimated at £50k - £70k that's superior to many damaged or minor works by more famous Dutch landscape artists. I suspect it will sell strongly because it's such an attractive picture. A very pretty
Flinck
portrait estimated at £40k - £60k, and another by
Jacob Backer
with the same estimate also appealed. There's a lovely still life by
Maria van Oosterwyck
(£100k - £150k), a female student of Heem's, a less well known still life artist, but awfully good. Among a group of pictures consigned from Petworth House is a beautifully painted, if unfashionable,
Willem van Mieris
finely framed and estimated at just £20k - £30k (above). It's a bit melodramatic and not the most compelling composition, but I find that estimate unbelievably low for such a finely painted picture. It wouldn't even pay the VAT on the premium of a trendy contemporary work! A
Sano di Tito
in a nice frame is another good picture that is also an expression of its age (£30k - £50k), as are two fine eighteenth century portraits, a
Roslin
at £20k - £30k and a
Greuze
(£40k - £60k).
Picture: Sotheby's
The evening sales have the big-ticket lots by famous artists, but again there were plenty of great things by less well known artists and from less fashionable schools of art. Bruyn's
Coronation of the Virgin
is one of my favourites from the Sotheby's evening sale. Big, rare and important, it's a kind of picture poorly represented in British museums, yet it's estimated at just £600k - £800k.
I find a lot of Dutch still life relatively rather pricey, but a fine small
Huysum
is good value at £150k - £250k. I guess people want their Huysums more flamboyant. There's a great pair of still lifes by
Kessel
, one of which is his signature made by insects (£500k - £800k). And a fine
van der Heyden
is cheaply estimated at £250k - £350k. Again it's not quite the Platonic ideal of a van der Heyden, but personally I'd rather have something more unusual, and this one is excellent.
As ever I thought the Brueghel peasant pictures and Venetian views rather dreary and overpriced. Objectively they're perfectly fine pictures, but I find myself rather repulsed by their relative over-valuation. It's interesting that they've included a pretty bad picture of
The Temptation of St Anthony
by a follower of Bosch into the evening sale, though both quality and estimate (£30k - £40k) make it more of a day sale picture. I guess it's designed to appeal to a certain aesthetic, in the hope that someone will overpay for its 'look' rather than its artistic quality. I wonder what strings the consignor had to pull in return - paying a sellers' premium, perhaps. The unknown factor is what impact sanctions on Russia will have on sales. An ormolu-mounted lapis lazuli
tazza
with Russian provenance seems particularly to appeal to Russian taste; I wonder if it will sell (£600k - £1m at Christie's).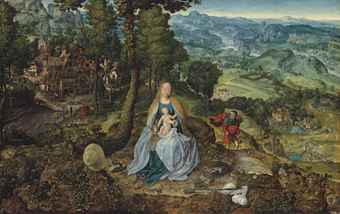 Picture: Christie's
From the Christie's evening sale I was intrigued by the anonymous Antwerp School picture above,
An Extensive Landscape with the Rest on the Flight into Egypt,
a large and tremendously impressive early landscape. It
sold in 2006
at for £400k (against £350k - £450k estimate). It's much cheaper, much better and much more interesting than the Venetian views that sell so well. This is exactly the kind of picture that museums should be buying. It's high quality, visually stunning and rare. Few museums have good examples of this kind of art. Yet because it is unfashionable and unattributed, it is relatively cheap.
It surprises me that museums don't go after pictures like this. Often they
follow
market fashions, rather than lead them. The National Gallery waited until the market for American pictures was at its peak before buying its first major American painting, by an artist collected by billionaires. Museums seem bad at making judgments about relative value. British regional museums have limited budgets, but they keep buying more of what they already have, particularly British pictures. I do wish they'd make a few brave purchases, particularly of some of the unattributed and unfashionable pictures that are especially cheap.
Picture: Christie's
Other pictures that impressed me at Christie's evening sale were the
Ostade
(above, low estimate of £80k - £120k because pictures of apothecaries examining urine aren't what everyone wants in the drawing room),
van der Helst
(impressive large portrait, £250k - £350K) and
Provoost
(£250k - £350k, splendid but seems rather abraded). I also love the top lot, a superb
Van Dyck
(£2.5m - £3.5m).
Some pictures sell high (or at least have high estimates) because of the fame of their artists rather than their quality, such as this
Saint Theresa of Avila
at Sotheby's
,
a singularly uninspiring picture that is in the evening sale because it is by Ribera. Ribera is a fine artist, but I wouldn't want this one. Pompeo Batoni is another artist I like greatly, and think relatively undervalued, But I didn't like
this one
at Christie's. And I'm afraid I don't much care for Sotheby's' top lot either, a major
Turner
. Absolutely nothing wrong with the picture, which is outstanding of its type; it just doesn't speak to me. But the forty page catalogue entry is superb. The quality of cataloguing really is magnificent these days, with high quality reproductions and serious commentary, sometimes stretching to essay length. No wonder museums are hiring from auction houses
The market for mid-range old masters has been static for some time, with some schools falling sharply. Really good pictures can be had for prices that are low almost without precedent. A
Teniers
at Sotheby's is estimated at barely more than it realised in 1980 ($230k in 1980, estimate now £100k - £150k
≈
$161k-$241k). Estimates should be treated with some caution because they are not just objective attempts to predict prices. Sometimes they are high because the consignor insists on an unrealistic reserve. And weirdly low estimates are rarely because the auctioneers are simply wrong. Sometimes it's because good things aren't always fashionable. But it can also be a marketing gimmick to encourage bidding. I think that's the case with a few of the good Dutch pictures coming up, including works by van de Velde and van der Heyden that the auctioneers surely expect to exceed rather modest estimates.
Picture: Christie's
Let me finish with some seasonal cheer from Hendrick Bloemaert. His splendid
Allegory of Winter
will warm the hardest hearts. It's a really beautiful picture, estimated at £300k - £500k at Christie's. A perfect gift for a favoured blogger, perhaps?