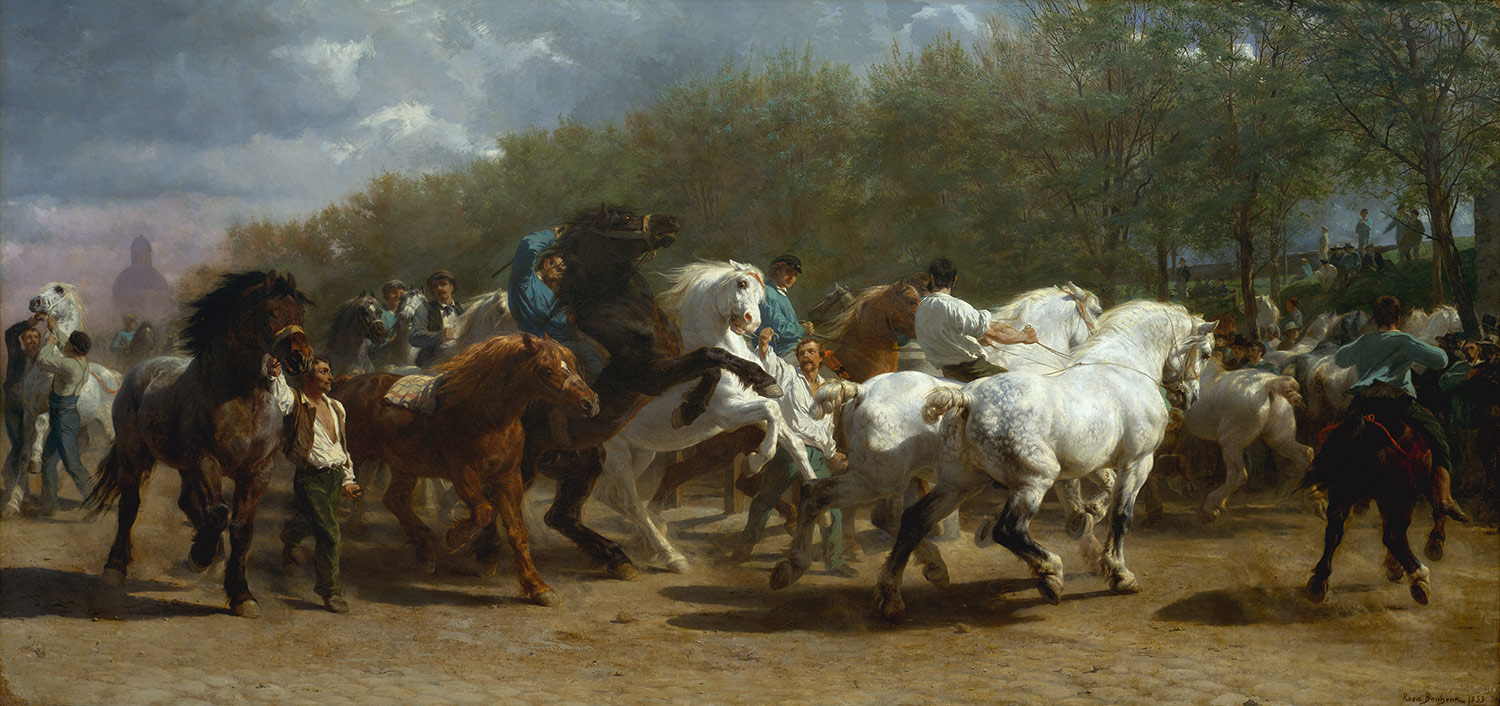 Picture: Metropolitan Museum of Art
A picture by Georgia O'Keefe has just smashed the record for a work by a female artist, selling for $44.4m. I fear to tread among the passionately politicised debates about women artists, but let me at least debunk a smug and sanctimonious
response
from Jonathan Jones. He thinks the achievements of women artists in the twentieth century have been 'subtly underplayed and undervalued'. Then, in a grotesque humblebrag, he says it's all his fault (or the fault of his trade), for it is male critics that determine greatness. Sorry Jonathan, but no amount of your praise will win Tracy Emin a reputation for posterity. I have great belief in the value and power of art criticism, but the art's the thing, and quality will out in the end.
And oddly enough the art market, for all its fads and fashions, has always valued some women artists very highly. The picture above,
The Horse Fair
by Rosa Bonheur, was one of the most expensive in the nineteenth century. It sold for 40,000 francs in 1855 and again in 1887 for $53,000. Bonheur's success eclipsed almost all of her male rivals. And Vigée Le Brun is another woman artist who has always been valued highly in the art market, and by critics and connoisseurs too.
Of course there have always been immense barriers to women becoming artists - not only social and economic, but also institutional barriers such as exclusion from life drawing classes. And there have been challenges to getting critical attention once established as artists, though it is less clear to me that there's a gender divide at that point. But once established, great women artists have historically received their due from the market. Jones says "money ... is telling us that women are still not allowed in the pantheon of greatness". Was it telling us that women were allowed in the pantheon of greatness in the more enlightened nineteenth century, only to exclude them later? Of course that's nonsense, and Rosa Bonheur's runaway success tells us nothing about the oppression of women in the nineteenth century. We should be equally wary of drawing the opposite conclusion today.
There are many disparities in the art market. I think O'Keefe is a lightweight and whoever paid $44m is a fool. But I think the same about Andy Warhol and Damien Hirst, whereas certain unfashionable old masters (of either sex) are unbelievably cheap. The art market isn't institutionally sexist, but it shouldn't be taken as a reliable judge of quality either. Jones is guilty of both misreading the market and taking its judgments too seriously.