Picture: LikeCroatia.com
A stag party in Zagreb was a great opportunity to see one of Europe's less known museums. When I visited the
Strossmayer Gallery
on a Sunday morning (it's only open mornings) I was the only visitor. The museum was founded by Bishop Strossmayer, an outspoken opponent of the doctrine of papal infallibility, a Panslavist who funded schools and a university from diocesan funds. He is famous for a heretical speech against papal infallibility, but it's almost certainly a fake. Unfortunately some of his pictures are not what they seem either. Many are over-attributed, including a copy that is identified as an El Greco and several Italian attributions that seemed suspect to me. The picture above features
Saints Augustine and Benedict
, which they give to Giovanni Bellini. It isn't by him, but it's a high-quality studio work that may well have had some intervention by the master himself. It reminds me of the
Madonna and Child with Saints
in Birmingham, which is similarly high-quality but generally excluded from the canon. Ironically some of the pictures identified as studio works are actually rather good - a
Holy Family
tondo from Filippino Lippi's studio, and a
Madonna and Child
from Credi's.
Picture: Musée Jacqumart-André
Probably the best-known picture at the Strossmayer is Fra Angelico's Stigmatisation of St Francis and Death of St Peter Martyr (above), which is really excellent. They also have some high quality copies including one of Raphael's Madonna of the Pinks, which they attribute to Sassoferrato and one of Dürer's Madonna and Child with St Anne, which they say is 'attributed to Dürer'. Most museums would prefer to show a second rate original rather than a first rate copy, which is a shame. Copying used to be highly-regarded and many are excellent. They are often quite cheap at auction. A partial copy of Titian's Three Ages of Man was in a particularly finely carved gilt frame; it must have been considered an original when framed, or at least intended to be sold as an original. Many of the pictures at the Strossmayer are well-framed, which made me wonder if he was being sold expensive duds.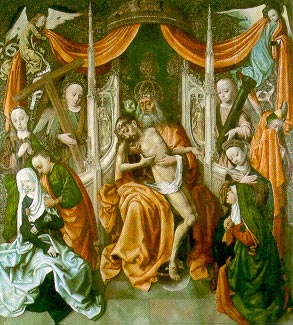 Picture: Strossmayer Gallery
The other highlight is this large altarpiece is by the Master of the Virgo inter Virgines - an unusual and wonderful thing.
The collection focuses on Italian paintings, with a scattering of German and Early Netherlandish pictures, a handful of French and some Dutch. This weak landscape is given to Ruisdael, which is surely wrong. My first thought was Cornelius Vroom; the foliage in particular is quite reminiscent. But I'm not now sure it's by him either.
Zagreb is well worth a trip. There are several other galleries, and the Museum of Broken Relationships (ideal for a stag weekend) - which is actually better than it sounds, though rather sad. The photo is the caption from a frisbee (a 'stupid' frisbee); the object itself was inexplicably on loan to another museum!