There were some odd results in the Old Master Paintings sales in New York last week. Some great pictures went cheap, some so-so pictures soared. Prices were more closely related to quality in the drawings sales. I was delighted to see some good anonymous drawings fetch high prices, particularly in the Sotheby's sale. The sixteenth century Venetian
landscape
above made $87,500 (estimate without premium was $7k-$9k). It had struck me as impressive and unusual, but I confess I was put off by the rather weak foreground figures. It was from the collection of the late Denys Sutton, a former editor of Apollo with a really good eye. A Dughet
landscape
from his collection made $11,250; it was inexplicably unsold at an auction in London last year. Another anonymous drawing that I'd admired was a Florentine
Head Study
that made $40,625 (est. $15k-$20k), and yet another was the intriguing French School
portrait
pictured below, also estimated at $15k-$20k, that sold for $37,500 including premium.
I thought this
Rembrandt attribution
rather expensive at $75,000, but good paintings and drawings from Rembrandt's school have been fetching high prices even without firm attribution. A tiny
Head of an Old Woman
from Rembrandt's circle made $203,000 (est $60k-$80k) in the Christie's paintings sale.
The Christie's drawings sale saw a convincing new attribution to Barocci fetch just $50,000 despite its historically interesting subject - a
Study for an Equestrian Portrait of Francesco Maria II della Rovere
. The price reflects its comparative dullness against the best drawings by this great draughtsman. One of the great Barocci sheets in the recent National Gallery exhibition fetched £1.6m back in 1987! The fine Gericaults sold poorly too - the one I particularly liked failed to sell at all. Despite his tragically early death, Gericault produced huge numbers of drawings - but those at Christie's seemed quite exceptional and I was surprised they didn't do better.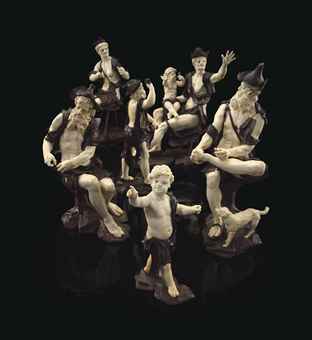 There were even more surprising bargains in the paintings sales. At Sotheby's the
Lo Spagna
that I wanted made just $269,000 and Bourdon's
Deposition
was $281,000 - well above estimate but still cheap. At Christie's the
Sweerts
was just $197,500 and the
Salvator Mundi
that was attributed to Jacopo de'Barbari failed to sell. The
Rothschild Prayerbook
sold below low estimate for $13,605,000 (& not to the Getty - what were they thinking?). Nearly $14m is a lot of money, but truly a bargain for such an absolutely exceptional work of art. The
ivory group
above sold below its low estimate at $197k. I wonder how much better it would have done if one of the figures hadn't been smashed at the viewing - very sad.
I missed a few things online. I didn't click the thumbnails on pictures by
Beerstraten
(above - a rare good picture by an artist who was often pedestrian),
Baciccio
or
Schedoni
but all deservedly sold well above estimate, all at Sotheby's.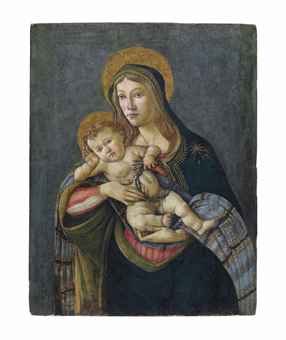 Lots of things sold for prices that seemed too high. I thought this
ugly picture
(above) that was ambitiously attributed to Botticelli would fail to sell with an estimate of $700k-$1m, but it made $1,685,000 at Christie's. Nearly $6m for
this
El Greco is crazy money.
Another El Greco
set a record for a Spanish Old Master in London last year (£9.2m), but that was an incomparably better picture. And prices for Brueghel's
peasants
are always enormous and never justified. But I'm comparing old masters. Set against contemporary and modern art, everything is a bargain. Bendor Grosvenor provided some
perspective
on
Art History News
when he pointed out that you could buy the entire Christie's Old Master Paintings sale for a
Cracked Egg
(how appropriate) by Jeff Koons if it sells at low estimate.
Other high prices seemed justified. At Sotheby's, Tetrode's bronze
Samson Slaying the Philistine
made $3,301,000 - triple its estimate, but appropriate for such a rare and excellent sculptor who has gained recognition and admiration since the monographic exhibition in 2003. An anonymous Lombard
Portrait of a Gyrfalcon Viewed from Three Sides
(above) sold well above estimate for $3,189,000. It's a striking and fascinating picture in lovely condition, a high price but a unique and beautiful picture. Four marble reliefs by
Thorvaldsen
sold for $2,405,000 (over twice estimate). Much of his best work is in the wonderful Thorvaldsen Museum in Copenhagen; good examples rarely come on the market. Still, some of the best things in last week's sales were a fraction of these prices; I envy the buyers of the Lo Spagna and Bourdon.