Picture: Christie's
It's the week of the winter old master sales in London, and Sotheby's and Christie's have some great pictures for sale just in time for Christmas.
Best of all is surely this wonderful hare, at once stunningly beautiful, marvelously endearing, and art historically important. It's painted on vellum by Hans Hoffmann, who was clearly inspired by Dürer, but working a generation after his death. It's bigger than you'd imagine, combining a meticulous miniature technique with impactful presence at a distance. It's being sold at Christie's on Tuesday with an estimate of £4m-£6m. It's a prudent estimate, but given its potential appeal outside traditional old master collectors, and the tendency for some old master drawing collectors to pay enormous prices for the very best works, it could conceivably soar above that. You can
zoom in on the detail
on Christie's website.
The Hoffmann is the top lot at Christie's, but many of my favourite pictures weren't actually the most expensive. A newly-discovered bouquet of flowers by
Abraham Mignon
at Sotheby's estimated at £200k-£300k is beautifully preserved and ranks as one of the finest Dutch flower pictures I've seen at auction, but he is less appreciated than Bosschaert or Huysum, and Mr Art Market can remember only so many names at one time.
Some pictures sell cheaply because the market just doesn't appreciate them. Others seem just to have particularly conservative estimates. Here are some things that look cheap to me: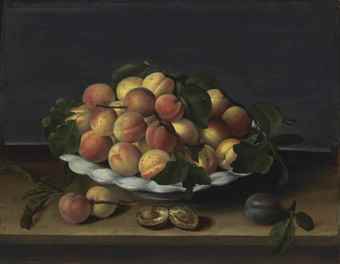 Picture: Christie's
Louise Moillon is a wonderful still life artist, absent from many major museums. Christie's has this lovely
still life of apricots
estimated at £70k - £100k. Its panel is badly warped, and there are paint losses along the cracks. But fundamentally it looks in rather good condition, and hasn't suffered the overcleaning endemic to seventeenth century still life. It needs careful restoration, but a bargain at that price.
This Cariani Christ Carrying the Cross is a new discovery, and is unusually good for the artist. The estimate is just £70k-£100k at Sotheby's; it made a powerful impression at the viewing, and I suspect it will sell rather higher. It's a really moving image that wouldn't look out of place in a major museum, but it's perhaps not the most 'commercial' subject.
A more immediately attractive Italian picture, also at Sotheby's, is this wonderful Bachiacca, which is also notably well-preserved. Its estimate of £150k-£200k is rather than than the inflation-adjusted £16k that Agnew's paid for it in 1965 (around £277k today). Do zoom in on the Sotheby's website to get a better view of the details. Second-tier Italian artists like Bachiacca seem really undervalued to me, especially compared to Dutch pictures.
Picture: Christie's
Christie's has this Christ in Glory by Il Baciccio estimated at just £20k-£30k. Justice demands ten times as much; it looked spectacular at the viewing, though harder to appreciate in reproduction.
Among the array of gold-ground pictures, it was two cheaper panels that particularly appealed to me. Sotheby's has Cola di Petruccioli da Orvieto's
Madonna and Child Enthroned
estimated at £60k-£80k and Giovanni da Modena's
St Sebastian
(£15k-£20k).
I greatly liked this anonymous
Adoration of the Magi
from Cologne, c.1450. This kind of picture rarely appears on the market, and it's high-quality despite its anonymity. Good value at its £50k-£80k estimate, at Sotheby's. Unusually it has been restituted twice. It was confiscated from a member of the Thyssen family, and returned after World War II. But now it's been returned to the heir of the owner
before
Thyssen, who presumably sold under duress. It's the sort of picture that regional British museums should pursue, instead of buying more overpriced Constables and Gainsboroughs.
Among the Dutch pictures, this powerful portrait by
Verspronck
really stands out. He was a variable artist, but this is a particularly good example, despite some wear. The estimate of £100k-£200k is in line with his more pedestrian work; this deserves to sell for more. The other striking Dutch picture is a Govaert Flinck
Tronie of a Young Woman
, estimated at £200k-£300k. The market for Dutch pictures has been moderating recently, after years of strength, but this fine and immediately attractive picture is the sort of thing that might sell very highly. Both are at Sotheby's.
Picture: Christie's
Jan Wijnants isn't a particularly exciting artist, a Dutch landscapist less inventive and less brilliant than the bigger names. But Christie's has a
delightful one
on a very small scale at just £7k-£10k. Looking beyond the name you can find some exceptionally good value pictures in the day sales. Dutch flower still lifes are highly valued, but collectors tend to pursue the biggest names. Bosschaert is especially prized, and Christie's has one estimated at £600k-£800k. Estimate is reasonable and in line with comparable pictures, but it's no bargain at that level. More interesting to me is the picture hanging opposite at the viewing: a rare flower piece by Jacques de Gheyn II estimated at £100k-£150k (above).
For some things to seem relatively cheap, others must be expensive. Sotheby's top lot is a big
Contstable
estimated at £8m-£12m. I'm not a great fan of Constable, and that price can buy you many better pictures. Buy the wonderful
Mabuse
instead, which I neglected to mention only because its worth is already reflected in the £4m-£6m estimate (pictured above). The market for Brueghel and Cranach has moderated, but second-rate pictures still attract high estimates. I have a suspicion that the Holbein school
Portrait of Henry VIII
at Sotheby's will sell for more that its estimated £800k-£1.2m, but despite being a relatively good studio work it still seems too much to me. Iconic image of Britain's favourite psychopath, but not an inspiring picture. And view scenes always seem absurdly expensive to me: pretty and decorative, but rarely really good. Christie's has a really superior
Guardi
, but still doesn't seem worth £1.5m-£2.5m to me (though people with actual money will disagree, and it's their votes that count!).
Picture: Christie's
Poussin is one of my very favourite artists, but to my surprise his
Holy Family with the Infant St John the Baptist
was one of my least favourite picture at Christie's. It's an early work, before he developed the austere classical style that's his hallmark. And it's not in great condition; selective cleaning has altered contrasts, and tonal variation has been lost. Not worth £400k-£600k, in my view; better off with the big Pietro Testa
Aeneas and the Cumaean Sibyl presenting the Golden Bough to Charon
, the next lot in the Christie's sale, estimated at £300k-£500k. It's over two meters wide, but a really fine picture (above).
The viewings are always a revelation, a display of privately owned pictures that you wouldn't otherwise get to see. It surprises me that more people don't attend; they are free and open to everyone, but it seems to be a preponderance of dealers and collectors rather than art historians or the merely curious.
They've typically been less well-studied than museum pictures, and I welcome the chance to form a view relatively unclouded by the dense heritage of scholarly opinions expressed on museums' pictures. It's also a way to develop a feel for condition, which is less apparent in museums that restore to a common standard. In the auction rooms you can see pictures in a range of states: battered and broken, overcleaned, repainted, cracked or torn, but sometimes marvelously pristine beneath dirty varnish. This season's sales had a lot of things especially to my taste, and there are many more wonderful pictures. Do have a look at the catalogues for the Master of St Ursula, Ambrosius Benson, a fascinating picture from the workshop of Joos van Cleve that was updated in a more modern style, a newly discovered (sadly worn) Spranger, a wild mannerist picture by Mirabello Cavallori, the Master of the Dreux Budé Triptych (possibly the earliest noctural panel painting), Ligozzi, Gandolfi and excellent pictures by Herri met de Bles and Hans Rottenhammer.