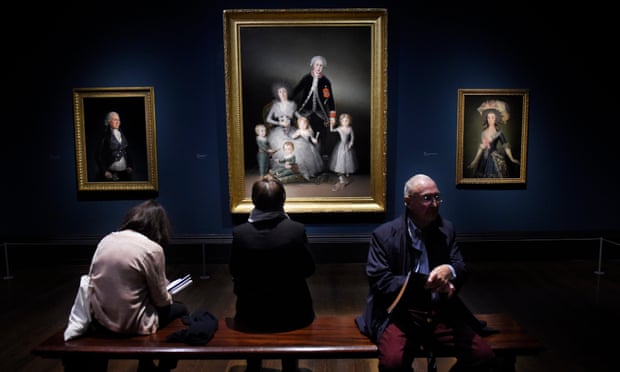 Picture: Guardian
The only current exhibition that I'm inspired to review at length is the NG's Botticini's Palmieri Altarpiece, to follow. In the meantime, some thoughts on 'the rest'.
Another rather formulaic idea for a guaranteed 'blockbuster': assemble pictures by the same famous artist around a particular theme and wait for the crowds. I haven't even bought the catalogue, because recent offerings have been so feeble and yet again there's no actual catalogue. You have to be really dedicated to see an NG blockbuster, because it's just never quiet. Even at opening time the galleries are mobbed by people who've been at private views. The picture above is cruelly tempting: imagine twenty people between the bench and the pictures and you'll get a better idea. It's interesting how much difference it makes. I recall the Family of the Infanta Don Luis when it was on extended loan at the NG some years ago, and it made a terrific impression on me. Seeing it behind thirty people deadened it. No point.
I was interested in the critical response. Fawning adulation from all the right-on critics in the main newspapers, but some intelligent criticism from Neil Jeffares. But must one be a great painter to be a great artist? I'm not so sure. Goya certainly had his weaknesses; just look at all those superficial hands. And some of the pictures in this show are absolute dogs. But others are, to me, quite wonderful. In the last room there are some especially feeble late works, but you can compare them to the superb Don Tiburcio (and look how cunningly he hides the hands!). I actually like many of the pictures a good deal, but we should take his critics seriously, and acknowledge his flaws. Indeed, a show focused on what's good and what's bad in Goya would have been much more interesting.
Wow, this is bad. This splendid Spectator article put it better than I could. But even people who recognise the art as execrable fawn over his politics. Actually Weiwei's politics are as limp as his art. Banal, obvious and (from a western perspective) utterly safe.
The Royal Academy puts on some of the best shows in London in its tiny little top floor galleries, whereas its grand blockbusters in the big rooms on the main floor are usually duds. The catalogue for Liotard is excellent, and I'd love to have written about the exhibition. I needed to see it a second time, and took a day off work to get there first thing and enjoy it quietly for a good block of time, but I was turned away at the door because my Friends card had expired and they haven't yet sent me a new one. I don't have many days off work, and to have wasted one of them because of such a stupidly bureaucratic response is utterly infuriating. It looks wonderful, so I hope you have more luck than me.
Best thing I've seen in London. Really excellent and rarely-seen things, including a stunning Lelio Orsi and a Bernard van Orley (above) that I've coveted since seeing it in an auction catalogue about two decades ago. I didn't know it would be in the show, and it was a wonderful surprise to see it. A couple of superior Cranachs and a Spranger that I'd seen in New York were the other highlights for me, but there was a strong group of nineteenth century pictures too. I enjoyed this more than most of the big exhibitions. Really worth a look if you get the chance.
Bringing together drawings from wildly different traditions simply because they use the same medium seemed a weak theme for an exhibition, but this show is convincing. Rather than attempt a comprehensive narrative, it is separated into four relatively self-contained and coherent sections: the Italian Renaissance, Northern Renaissance, Dutch mannerism (stretching to other northern seventeenth century sheets), and the twentieth century. There are some sublime masterpieces here, and the connections and distinctions are revealing. The twentieth century section lacks the peaks of the other sections of the show, but there are still some fine drawings by artists that deserve to be better known.
The show is well organised and the wall text is excellent, but unfortunately the display in London had some serious drawbacks. The early Italian drawings were wrecked by the reflection from a video loop, imposing moving images among the Raphaels. There's really no excuse these days for having an Open University style film showing in the gallery, when it could be put on YouTube for people to consult at home. And some of the northern mannerists were invisible, because they were so far back in vitrines. It didn't matter as much with the rest of the exhibition, but some of the mannerist sheets are minutely detailed and demand close study.
Even if you can't see the exhibition, I really commend the excellent catalogue. I especially hope it's read at the National Gallery. The Liotard and Metalpoint catalogues are both models they should follow.