Picture: Wales Online
Two big Rembrandt deals have been announced recently. Both reveal wastefulness and foolishness in public art acquisitions.
The UK government has placed a temporary
export block
on
Catrina Hooghsaet
(above), which is being sold from Penrhyn Castle. The
Telegraph
reports that a private buyer has agreed to pay £35m plus sales tax of £660k. The painting is exempt from sales tax, so presumably £660k is due on agent's fees of £3.3m. UK buyers have until 15 February to register interest in buying the picture.
I hope no one does. The picture has been openly marketed for years; the Rijksmuseum came close to buying it. There was ample opportunity to negotiate a friendly deal without the need to pay millions to Sotheby's. I don't begrudge dealers' mark-ups or agents' fees, which are fairly earned in a competitive market. But British institutions have a woeful history of waiting until the last minute and then declaring a national emergency, when a bit of foresight would save millions. If anyone wanted it, the should have said so earlier. They will seem incompetent if they only raise their hands now.
The other element I find objectionable is the smoke-and-mirrors approach to funding acquisitions. An element of tax that's been deferred could potentially be removed from the sale price, making it cheaper for a British public collection to buy the picture. But the real cost to the UK taxpayer doesn't actually change. It makes no financial difference if the tax is collected and then spent on a painting, or if the tax isn't collected in the first place. But it does give an artificial incentive to buy pictures subject to tax deferral, which is an arbitrary way of choosing acquisitions. I've written more about it
here
, and discussed on the BBC's One Show
here
.
Finally I don't think it's the best way to spend £35m. It's a fine picture, and I'm a great Rembrandt fan. But it's not one of his best, and we've got quite a lot in the UK already. Spend the money on other things, and please try to buy wholesale not retail. Lots of great pictures are sold for surprisingly modest prices, and £35m could fill some serious gaps in British public collections.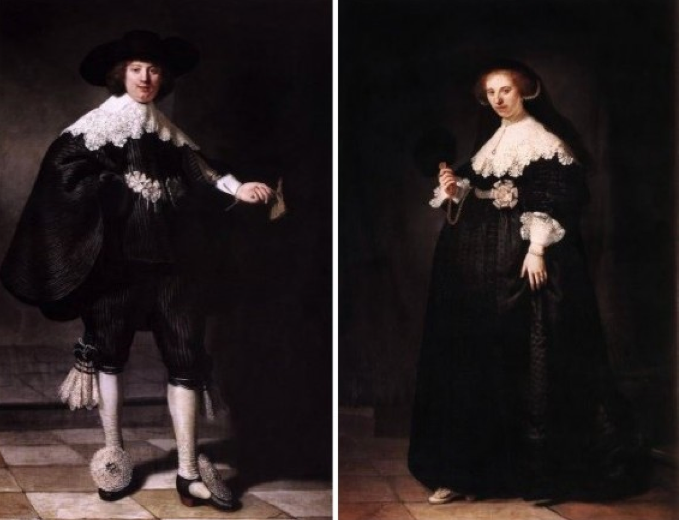 Picture: Dutch News
The French and Dutch governments have jointly bought this pair of full-length portraits by Rembrandt from the Rothschilds for €160m. The Dutch came up with €80m shortly after buying a Adriaen de Vries bronze for almost $28m, yet they are so short of funds for operating costs that they have to close at 5pm each day to cater for private events. When you consider the value of the Rijksmuseum's entire collection, there is no way that they money they're getting from plutocrats and celebrities can cover the cost of capital for the public asset they are exclusively enjoying. But every day the oiks are kicked out in the late afternoon so the privileged few can party away in evening.
It's a chronic problem in the art world that money can be raised from public funds and private donors for big acquisitions and flashy extensions, but no one wants to pay for more modest acquisitions or for the running costs of all the new wings. The Dutch government should have spent the €80m on opening later so the public can enjoy what's already there.
My other concern with this dumb deal is that the pictures will be shared in perpetuity, meaning that these large and fragile pictures will be moved between Paris and Amsterdam every few years. There will always be minor damage when big pictures like this are shipped hundreds of miles. But what happens if they become too fragile to move? And what happens if the museums disagree on restoration? Or if one museum wants to lend them elsewhere, to the Louvre Lens for example? What will happen if the Louvre wants to rent them out to a foreign museum? Or if the two countries fall out. It is inconceivable in the medium term, but forever is a long time and who knows what will happen in 300 or 500 years. Shared ownership of art is an absolutely terrible idea. When a crisis happens, it will seem obvious in retrospect. But right now the deal is being naively praised as 'saving' the Rembrandts, as if any other buyer would destroy them. I'd certainly be sorry to see them disappear to a private collection, but I'd be much happier if they'd both been bought by the Getty or the Kimbell.