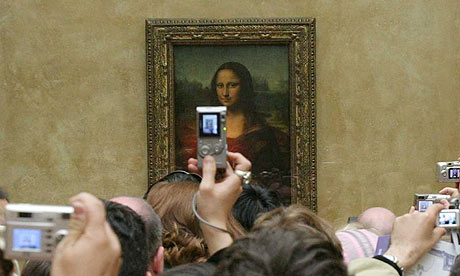 Picture: Guardian
Everyone knows the Louvre ritual. Follow signs to the Mona Lisa, raise camera, take picture, leave. Takes about twenty minutes, then you're done. One ticked off the bucket list. In the old days you had to see the Winged Victory of Samothrace and Venus de Milo too, but times change. Who knows where Samothrace is anyway?
Most art lovers find this depressing at some level. But Angelo Tartuferi, director of the Accademia in Florence,
thinks
it's so brilliant he'd like to see the same thing in front of Michelangelo's
David
. It's so much better seeing art through a camera, preferably illuminated by half a dozen simultaneous flashes. He justifies it by saying that it's too much hard work restraining visitors. I wonder if he feels the same way about visitors poking paintings or stroking sculptures. Tartuferi is being lazy and cynical, but his reasoning is unusual.
A more common justification is that 'nowadays' people want to take pictures and share on social media. That's not as novel as some believe. My grandmother used to show the neighbours slides from Skegness, and eighteenth century aristocrats returning from the grand tour would show off the Canaletto. But the problem with this reasoning isn't its naive presentism. It's rather the substitution of a boringly familiar activity for the transcendent pleasure of engaging with art. Some people think it's a great cultural victory that people are taking snaps in the museum rather than the forum. I don't think that's any kind of victory if people are taking selfies without looking at the pictures. Others think it might entice people to deeper engagement, though why seeing the scrum in front of the Mona Lisa would entice anyone to want more baffles me.
I'm delighted that so many people share my interest in old pictures, but I think it's fine that lots of other people don't. I also like cycling, and I know a lot of cyclists who believe everyone should ride a bike all the time. I think that's daft and boorish. If you'd prefer to drive or take the bus, go for it. I'm well aware that cycling is utterly boring if you're not interested. But when it comes to art, insistent inclusiveness is expected. Arty types think they're doing something wrong if every last person isn't engaged. People are made to feel guilty if they don't perform ritualised cultural observances like taking a selfie in front of the Mona Lisa. In cycling the equivalent would be to ask people to push a bike alongside them when they go for a walk, or to strap a bike to their roofrack when driving. Carrying a bicycle on your car isn't an introduction to cycling, and taking a selfie in front of the Mona Lisa isn't an introduction to art.
Economic growth and technological innovation have given us unprecedented opportunities to pursue whatever we're interested in, and to reach out to others who share our arcane passions. It's great that the local museum is now just one option among thousands for a Saturday afternoon out. There's certainly no shortage of people who do still want to go to the museum, but we shouldn't be too concerned that many others choose different pursuits. When museums try to be all things to all people they end up being nothing much to anyone, because there are always so many different specialist venues that do things better. Museums can be a place to step outside the frenetic immediacy of the connected world, to engage with unfamiliar and challenging products of the historic human imagination.
Some people find it inexplicable that anyone could oppose photography in museums, and my criticisms are open to misinterpretation, so let me conclude with some clarifications. There are of course good arguments for allowing photography (to capture framing and display, or obtain images not otherwise available). In this post I am focusing my criticism on the bad arguments that seem to have become more prevalent. I am not trying to exclude anyone either. I've led museum tours myself, and I'm delighted that many museums do such a good job of introducing people to art. All are rightly welcome to visit museums, but I think it reasonable that museums direct people towards engagement with art rather than away from it. And of course I'm not condemning anyone who takes pictures; clearly it's possible to engage with art and take pictures. But anyone who has been to the Louvre recently will have seen that one is often a substitute for the other. You can read my more general thoughts about museum photography
here
.