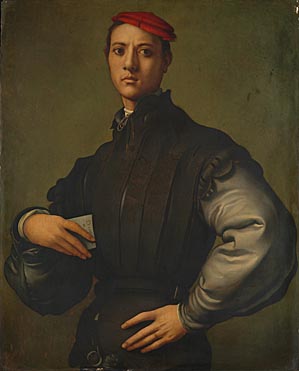 Picture: National Gallery
This rediscovered Pontormo has been on loan to the National Gallery since 2009. It's a fantastic picture, and it stands out for its fine condition. Its varnish is discoloured, but it's escaped the devastating scrubbing that ruined so many of the NG's own pictures. It's a shame that it's stuck in a corner - it really needs to be appreciated from both sides. Maybe they could swap it with the Franciabianco nearby. It's been published in the Burlington and exhibited at the National Gallery for years, but it's still not as well known as is its desert. Many people neglect it because it's less bright than the over-cleaned pictures nearby, and it's also competing with Raphael, Sebastiano's
Raising of Lazarus
and Bronzino's
Allegory.
But it holds its own even in that august company. There's a very
damaged Pontormo portrait
coming up at Christie's later this month with an estimate of $300k - $500k. This well-preserved one is worth a hundred times more.
I'm delighted that the awful glazing on the Rembrandts that I
complained about recently
has gone. They were glazed for an exhibition, using poor-quality glass that gave off distracting reflections, short-changing the exhibition's visitors. The glass was left on after the exhibition, but has now wisely been removed. They now look fantastic - great paintings, well-framed and well-hung.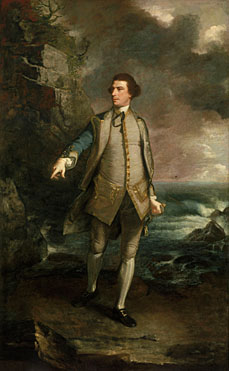 Picture: National Gallery
There are two new loans in the British Paintings gallery, a Reynolds and a Lawrence. Reynolds'
Captain Keppel
(above) is from the National Maritime Museum. I don't care for it. The wall text remarks on its debt to the
Apollo Belvedere
, but to my eyes its attempt at recreating an ancient heroic pose for an eighteenth century English gentleman is faintly ridiculous. Reynolds' art historical appropriations weren't always successful (and I can't forgive him his alleged experimental destruction of a Rembrandt!). The
Lawrence
, on the other hand, is spectacular. Despite the youth of his subject, Lawrence's dashing pose is wholly successful, and it's brilliantly painted. There's another version next door at the National Portrait Gallery, but I still hope the NG can acquire this one. So much better than the minor little
Lawrence
they acquired recently, which is quite out of its depth among the highlights of British art that are one display in that room.
Visiting the NG at this time of year is a particular pleasure, so far from tourist season. Its director, Nicholas Penny, is the best of his generation, as you'll see from this wonderful recent
interview
. They just need to repaint the ghastly purple walls, go back to 10am opening rather than five or ten past, move the Portormo, transfer all of its conservators to the security department and have them guard the pictures rather than 'restore' them to death and buy the Lawrence and the Pontormo. Easy!