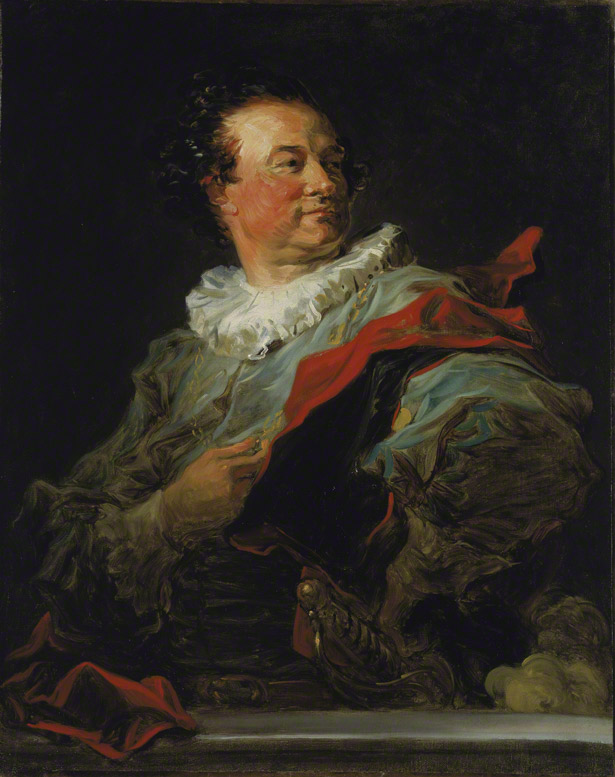 Picture: Getty
This Fragonard portrait of the
Duc D'Harcourt
is the highlight of the upcoming old master auctions in London. It's one of his series of
Fantasy Portraits
that are the apogee of his art, and the supreme masterpieces of the Rococo. The broad brushstrokes are superficially reminiscent of artists like Hals and especially Rembrandt, whom Fragonard copied. But the approach here is quite different. Where Hals and Rembrandt sought to depict structure, Fragonard's approach is more whimsical, delighting in the varied application of paint for its own sake. Compare, for example, the relatively flat gold chain here with the rich, thick impasto of gold chains in Rembrandt's portraits. Thick brushstrokes in the face and collar contrast with thinly painted passages in the costume. It's a powerful but enigmatic image, somewhere between portraiture and genre, but an absolutely sublime masterpiece.
It's at Bonham's with an unpublished estimate of £15m, which seems low to me. It's well preserved, outstanding in both quality and importance, and will appeal to a great range of buyers. I think it's better than any eighteenth century French painting in the UK; better than the famous Fragonards and Watteaus at the Wallace, and far superior to anything at the National Gallery. The National Gallery in Washington has another in this series, and there are nine in the Louvre. But I'm sure the Met, the Getty and Cleveland would love to have it. And it's the kind of picture that will appeal to collectors of modern art too.
Picture: Sotheby's
My other favourite is this copy of Rogier van der Weyden's
Pieta
, estimated at just £200k - £300k at Sotheby's. It's an exquisite painting - high quality and superbly preserved. The landscape background is stunning, as are the delicate white draperies and the beautiful interlocked faces of Christ and the Madonna. There are some losses clearly visible in the photograph, and some minor areas of repaint visible under UV (scattered minute retouching plus a couple of larger areas), but most of the image is in remarkably fresh condition. Despite its being an anonymous copy, and of an uncommercial subject, its quality and rarity make me think it will do rather better than the estimate.
The auction viewings are always some of my favourite exhibitions, and there's lots to enthuse about. Sotheby's has a tremendous Aert van der Neer
winter landscape
(£2m - £3m). Van der Neer painted variations of two pictures - nocturnal landscapes and winter landscapes. Most are a bit run of the mill, but this one is extraordinary. Venetian views come up frequently and their price generally exceeds their quality in my opinion, but the exceptional Canaletto pair (£8m - £12m) overcame my cynicism.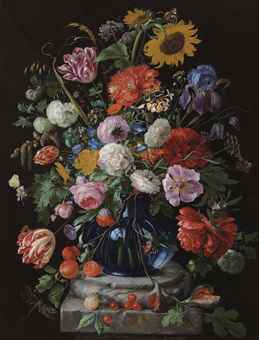 Picture: Christie's
Christie's has a magnificent floral
Still Life
by Heem, in wonderful condition (above). I examined only with the naked eye, and there seemed to be some minor repaint (e.g. yellow flower left of centre), but overall beautifully preserved and a really striking picture (£1.5m - £2.5m). The
Hercules and Omphale
from Rubens's studio is a large and striking picture (£200k - £300k). Rubens was a master of the production line, churning out strong images. This one is interesting for the range of technique and ability on display, and the almost paint-by-numbers approach to blocking in areas of colour and tone, then adding highlights. And there's a quintessential
Claude
, recently rediscovered (£3m - £5m).
Just as some pictures seem under-appreciated by the market, others seem to me excessively esteemed. This Jan Brueghel I
Temptation of St Anthony
is a fantastic image, but its painterly quality in no way justifies an estimate of £800k - £1.2m for a picture less than twelve inches wide. Similar pictures have sold for high prices, so I'm not challenging Christie's estimate. But I think collectors could get much better pictures for that kind of money.
There are always lots of interesting pictures in the day sales, where impressive paintings can be bought for relatively very modest sums. This Venetian School
Madonna and Child with Saints
needs restoring, but parts are fine (£40k - £60k). Minor Dutch masters and Italian baroque religious paintings seem especially good value.
Picture: Christie's
Christie's has a wonderful selection of affordable Old Master Drawings at South Kensington. I was taken by this drawing from
Raphael's circle
, estimated at just £800 - £1,200. It's not a great drawing (that awkward left shoulder and splayed feet), and it's unlikely ever to be attributable, but it's a vivid image, and how wonderful to have something associated with the greatest draughtsman of them all. There's also a
Vasari
estimated at just £4k - £6k (in a nice frame, too!) and a Federico Zuccaro
Martyrdom of St Catherine of Alexandria
estimated at £3 - £5k. Even with sizable premium on top, these are all tremendous value for money at these estimates.
Picture: Christie's
I don't know much about prints, but I was impressed by several things at the Christie's sale. The Rembrandt
Landscape with a Milkman
(£30k - £50k) stood out for its inherent pictorial quality and for the quality of the impression, which is on Japanese paper. It's also quite rare. One of the nice things about print viewings is the chance to see a range of different quality, and some of the late impression Rembrandts were frankly ghastly. There were some modestly estimated Tiepolos that I coveted, a range of fine impressions by Rembrandt and Dürer and some rare Schongauers. A rare print by
Menzel
seemed very modestly estimated (£3k - £5k), especially as it has autograph corrections. Menzel was one of the greatest graphic artists of the nineteenth century, but isn't particularly well represented in British collections. It would be a good acquisition for the British Museum.
All of these auctions take place over the coming week. It'll be interesting to see how far money aligns with taste!