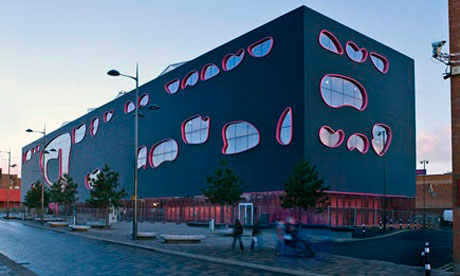 Picture: Guardian
This white elephant in central England deservedly faces closure, as Oliver Wainwright explains in this
excellent article
in the Guardian. Museum curators like to boast about their focus on audiences rather than collections, with interactive displays and events emphasised over works of art.
The Public
took that to extremes, and the public wasn't impressed.
The Arts Council provided £31m plus £600k a year in running costs - almost exactly equal to the cost of
all
the
artworks
currently (Aug 2013) subject to UK export deferral, including a Rembrandt self-portrait, a couple of Stubbs and a classic Bentley. Amazing how much more willing people have been to pay for ephemeral buildings rather than eternal art.
Incidentally those two Stubbs have been bought by the National Gallery of Australia - pictures of a dingo and a kangaroo. They're wonderful paintings that I'd love to keep on my doorstep, but we should really let them go. The National Gallery of Australia is the best home for them.