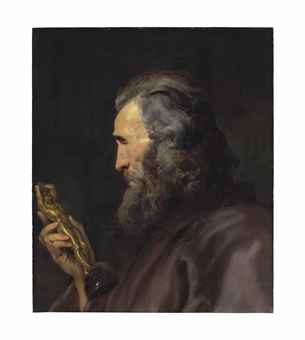 Picture: Christie's
I went to
Ancient/Modern Masterpieces at Christie's
at the weekend. It was billed as a 'curated exhibition', but was mostly just the most expensive upcoming lots from the major summer sales. It's a great way to see some of the best things on the market including some from categories I'd never usually see, like these unusual neo-classical
candelabra
.
My favourite is this
Rubens
, pictured above, which was extended by Jan Boeckhorst. I've seen it previously at the Ashmolean - it's a wonderful spirited head study. The
still life by Willem Claesz Heda
is a good example of its type. They've often suffered badly from time and excessive restoration; this one had a landscape painted over the background at one stage. The meat pies that you often see in these pictures have often deteriorated to the point of illegibility. The toast in this one makes a much better impression.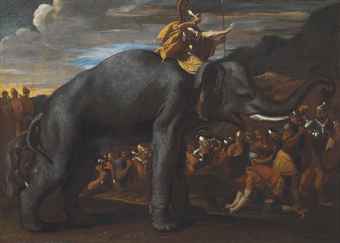 Picture: Christie's
This
Poussin
is widely illustrated, but not often seen. I saw it a few years ago when it was on loan at the Frick Collection. It's not a great Poussin - a big funny-looking elephant dominating the composition. But as a Poussin freak, I was glad of the chance to see it again. Don't think I'll buy this one, though. It's interesting to trace the depiction of elephants through the seventeenth and eighteenth centuries. From time to time they were seen in Italian menageries, and drawings of these live specimens must have been passed around widely. There are good examples from Raphael's school - Giulio Romano, for example - and there's one by
Stefano della Bella
in the Christie's Old Master Drawings sale. In this Poussin, the head is reasonably elephant-like, but it looks like he just made up the body. Maybe he saw something like this drawing now at Christ Church, which only shows the head, and in which the body does appear to slope like the Poussin.
I suspect the clash of old and new in the exhibition - Basquiat and Rubens, for example - tends to confirm prejudices rather than open eyes to new things. I like Modigliani and Kandinsky, but I think they suffered next to the old masters. And the price differentials are so bizarre. There are lots of things that I wouldn't even hang in my bathroom that are estimated at multiples of the Rubens.
Picture: Christie's
From the drawings sale, this
Danube School landscape
seems impressive, and strikes me as good value at its estimated range of £50k-£80k. Quality and rarity are offset by anonymity, which may deter some buyers. It would be a good purchase for a museum, which ought to be more concerned with intrinsic quality. I'd recommend it to the Barber Institute - they have a drawings gallery where they stage regular exhibitions from their collection, so it would be seen widely. The Barber has bought quite a few unusual things over the past couple of decades, focusing on areas poorly represented in British collections - this would be a perfect addition. It wasn't in the Masterpieces exhibition, which was a shame - it would have been nice to see some of the more unusual and interesting lots alongside the most expensive bling. But not long to wait - the main auction viewings are coming up soon.